Parlay Betting in ESports
Parlay. There was a huge hype created online around this word and for no particular reason, as there is nothing simpler than understanding a parlay bet.
Parlay betting is, simply put, a combo bet — a big bet made out of multiple single bets, all tied up together in one betting slip. Since we are combining several bets in one parlay, the resulting odd for our combo bet is huge, which means we can get insane profits for less money. But don't think it's that simple, because life never is.
When you combine several bets into one parlay, you don't just get a big odd to play with. You also get the risk involved with having to smash 3 or more bets in one go. Hitting a single is hard enough, especially in extremely competitive Majors.
Proper Way of Playing
With respect, parlays can be used in a smart way.
For example, an experienced bettor closely follows competitions which have pretty consistent results.
Once you have a clearer picture of your betting world, you can also resort to this tactic in order to increase the odds you play with. And even though you can get carried away with playing parlays (because it is tempting, believe you me) I don't recommend no more than a 4 match-combo. The reason behind this is statistics.
The more matches you add to your parlay, the chances of you winning decline exponentially. This is exactly why sportsbooks are willing to pay you 20 times your investment for a single slip. Let's take a look at one example, using Pinnacle as our sportsbook.
Go to the parlay betting mode by clicking "Multiple" on the betting slip on the right.

Select your picks from the main feed and you should end up with a slip that looks like this: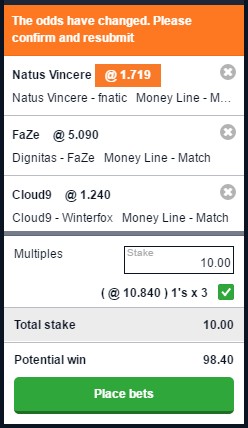 As you can see, my total odd value is 10.840. We got this odd by multiplying individual odds with each other. I am staking 10€ for this one so the potential win is a bit over 98€.
Have in mind that betting operators want you to play parlays. Why?
Because the potential payout is so huge that you will probably stick to playing parlays alone. On the brighter side of things, I have to say that I've made some serious money playing parlay bets.
To be even more honest, I have probably played parlays more than singles, and let me tell you — one of the biggest excitements I got in my life is when I waited for a 1,200€ parlay bet to come through in the last match of the day at last year's group stage of IEM.
Outcome? Let's just forget about it.