The Ultimate Guide to League of Legends Betting in 2018

League of Legends betting is one of the most popular activities of today's esports fans, which comes as no surprise, considering the fact that League of Legends is played by 100 million players each month.
When it comes to the esports scene, LoL is one of the "younger" titles, as the game has been released in 2009 by Riot Games. It instantly captured the attention of many MOBA fans, who were mostly playing Dota 1 at the time, and quickly grew into a gaming behemoth.
As soon as the gaming scene around LoL developed, Riot Games started organizing tournaments and developing the League of Legends professional scene. With money rolling in left and right, many esports betting operators decided to include LoL betting in their portfolio.
This turned out to be a smart decision, considering the large viewership numbers of many of LoL's tournaments, coupled with an extremely passionate player base. LoL betting is now the biggest esports betting market — 40% of people who bet on esports are betting exclusively on LoL matches.
Betting is available on both regular as well as specialized esports betting websites, with two popular betting options: betting on the match outcomes before the match and betting on live matches.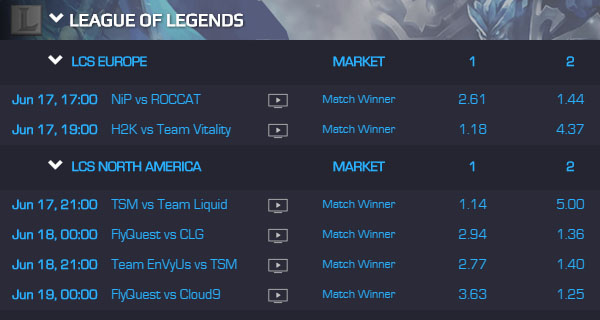 LoL betting is powered by two types of fans: those who play and watch and those who just spectate. As a game, League of Legends is fast paced, competitive and has many tournaments, which is why it's perfect for both novice and seasoned bettors.
Take a stroll through the realm of LoL betting or just jump to the individual sections by clicking on the links below.
Contents:
What is League of Legends?
League of Legends is one of the most popular esports, with roughly 100 million monthly unique players. The game is essentially a Multiplayer Online Battle Arena (MOBA), where two teams of 5 set out against each other with a goal to destroy the opponent's' base.
The battle takes place in a closed map setting. There are three maps in total but they all revolve around the same end goal — destroy the enemy base, called Nexus. Even though there are 3 different maps available in League of Legends, the one used in professional competitions is Summoner's Rift.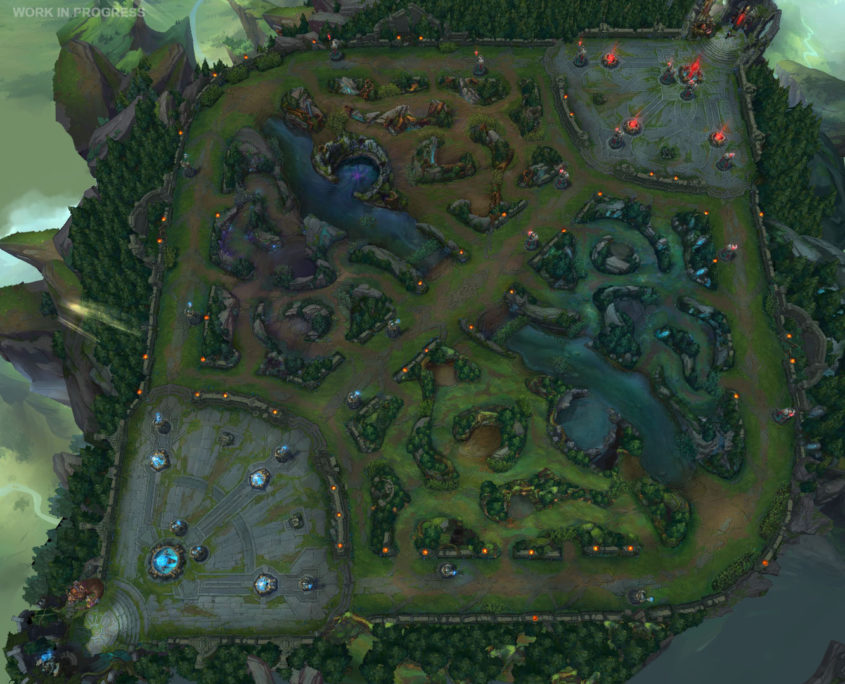 Each team spawns in the opposite corner of the map (red and blue) and then tackles the 3 lanes (top, middle and bottom) which lead to the enemy base. These lanes are defended by enemy turrets at various places along the lane, which together with minions (non-player characters) try to stop the enemy team from destroying their base.
This may sound easy at first, but achieving that goal in the highest competitive level is extremely difficult and takes hours upon hours of practice.
Before the game starts, players choose their Champions (heroes). Each Champion has its own spells, strengths and weaknesses and a very unique learning curve. They can be generally divided into strength, intellect, support and carry heroes, all of which have their own role in the battlefield.
Once the game starts, the players agenda is made up out of two things: farming and making their heroes stronger by leveling up.
Farming is essentially all about killing enemy minions and it works hand in hand with level ups — gold provides resources to buy items which, coupled with leveling up ensures that each hero becomes stronger and stronger as the game evolves.
And here's the fun part:
Once the game heats up, Champions start killing each other in fast-paced team fights that will leave you breathless. If you are not familiar with all the various spells, you can get the same excitement by just watching each Champion's health points.
League of Legends Competitive Scene
Before you can start betting on League of Legends matches, you need to know how the competitive landscape works.
LoL is one of the most popular esports at the moment and so far it has a total prize money of $41 million, awarded from almost 1900 professional tournaments. Riot Games is the chief organizer of almost all LoL tournaments and the prize money comes from the developers, sponsors as well as player contributions, which is pretty common in today's esports scene.
There are 5 official League of Legends leagues that take place year round and are crowned by one of the most spectacular esports events — League of Legends World Championship.
Here's a bit more info about these events:
EU LCS
EU LCS is a part of the League of Legends Championship Series, organized by Riot Games, and is made out of 10 European teams, competing in the highest possible level of play in Europe. Both LCS leagues have a yearly season that consists of two parts: spring and summer splits. Three top teams from EU LCS proceed to the final tournament of the season: The World Championship.
NA LCS
Similar to the one above, NA LCS features top 10 teams from North America battling over two splits for prestige and the chance to compete in the World's. Common split in NA consists of 9 weeks of play with 10 games per week.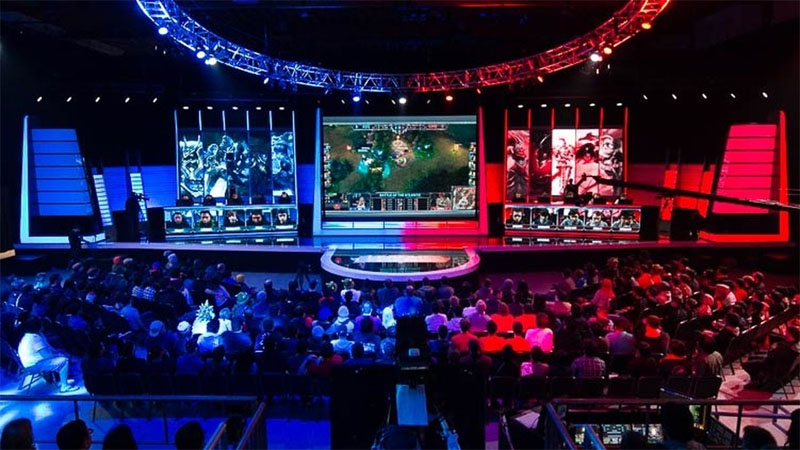 LCK
As one of the most successful League of Legends countries, South Korea has its own league called LCK. The competition in South Korea follows the same format of 10 teams, 2 splits and 3 World's competitors. According to many experts, LCK is the most competitive LoL league of all five, simply because of the skill levels of South Korean players.
LPL
LPL is the Chinese league, otherwise known as Tencent League of Legends Pro League. LPL is made out of 12 teams, split into two divisions. The best teams meet in the playoffs, from where the top three teams go on to the World's.
LMS
League of Legends Master Series (or LMS) is the primary LoL league in Taiwan, Macau and Hong Kong. It consists of 8 teams in total, of which 2 have the chance to proceed to the World Championships.
LoL World Championship
There are very few words that can describe the spectacle such is the LoL World Championship. This epic tournament is the pinnacle of each LoL season and consist of 16 teams fighting in the best of 3 or best of 5 matches. The 2016 finals were watched by 43 million people and had a total of $6,2 million in prize money.
All of these tournaments account for an exciting season all year round. Even better, it provides LoL fans with a plethora of betting opportunities, finalized with a championship that is as interesting as the World Cup in football.
League of Legends Betting Options
Now that you know the basics of the LoL competitive scene, it's time to dive in into all the ways in which you can bet on LoL matches. Of course, this depends on the betting website, but we'll just go over some common betting markets for League of Legends.
The most important thing to note is that there are two ways of betting on LoL matches: pre-match and live (in-play).
Pre-match betting means that you need to place your bet before the match officially starts.
In-play, or live betting, means that you can bet on the match outcome while the match is in progress.
Both of these basic betting options have their pros and cons. Pre-match betting allows you to carefully analyze match ups, teams and player forms before placing the bet. In play is much more dynamic, exciting and is also a good way to protect your pre-match bets.
Pre-match betting options:
Match winner

Handicap

(What is handicap betting?)

First map winner

Second map winner

Third map winner

Fourth map winner

(if the game is best of 5)

Fifth map winner

(if the game is best of 5)

Correct score

(predict the exact match result, ie. 2:1, 4:1, etc.)

Special markets

(available for game and map by map)

Team to score a quadra kill

Team to score a penta kill

Team to draw first blood

Team total towers destroyed

(over/under)

Team to slay the next dragon

Team total kills

(over/under)
Live betting options:
Match winner

Map winner

Handicap

First to 10 kills

Odd/even kills
Have in mind that the majority of these betting markets should be explored slowly, meaning do not rush into it head first. Some of these markets are safer than others.
For example, match winner betting is the best option for beginner bettors, while handicap, coupled with in-play special markets might appeal to more experienced players. Also have in mind that special markets and live betting require an in-depth knowledge of the LoL competitive scene, while pre-match outright winner bets are easier to plan beforehand.
Best League of Legends betting site
One of the main features of Gamopo is the constantly updated ranking of esports betting sites. For League of Legends, we picked ArcaneBet as the number 1 sportsbook. To find out why, check out our detailed overview of ArcaneBet.
All esports betting websites support League of Legends betting. To check out other offers, bonuses and website reviews, jump over to our rankings section.
How to Bet on League of Legends
Whether you have already bet on LoL matches or not, a little advice always goes a long way. We wanted to make this super easy for you so let me save you some time. If you are a beginner who never placed a real money bet, either check out our Betting Academy or read the simplified version below. But in any case, you should check out the Academy as we really spend a lot of time writing these tips for you.
If you are someone who has a firm grasp on the betting basics, either keep scrolling down for advanced betting resources or take a couple of minutes to read our tips on how to increase your chances of winning.
As promised, here is a quick guide on how to bet on LoL matches:
1) How to deposit
After you've picked your sportsbook and created an account, you will need to top up your betting account. Before you can place a bet, you have to put some money in your virtual wallet. Log into your sportsbook and use the deposit feature to add funds. Usually, you can use a variety of depositing options but it all comes down to the individual website. Here are the most popular payment options: credit cards, bank transfers and online payment systems (virtual wallets such as Skrill, Payoneer, Moneta and PayPal). The exact payment details for each sportsbook are available in our sportsbook section.
2) How to place your first bet
First you need to navigate to the LoL section in your betting platform. Click on one match and a new page will open up. The best way to start is to bet on the match winners. This is where we predict which team will win the match. Here's how to do it:
Click on the odd (the number) that's in the same row as your team of choice.
Enter your deposit amount in the betting slip. It should show up on the right side of the screen.
Confirm your bet.
Congrats, you just placed your first bet!
3) How to withdraw and cashout
Withdrawals are usually done through the same system you used for depositing, although you can manually specify where would you like to receive your winnings. Take note that being profitable in betting is reserved only for those who are willing to learn the most, so don't have your hopes up so high when you start. Play smart and we will help you with the rest. We maintain a full scope of betting tutorials and they are all available in our Betting Academy.
Best LoL Betting Bonuses
Not all LoL betting sites have signup bonuses (and that is not a mandatory feature for a good website), however there are few reputable sites that lead the way in this as well.
| Betting Site | Deposit & Cashout Options | Bonus Amount | Required Deposit | Start Playing |
| --- | --- | --- | --- | --- |
| | Credit & Debit Card, Skrill, Neteller, Yandex, Alipay, Webmoney | 20€ | 20€ | Visit Now |
| | Credit & Debit card, Skrill, Sofort, Bitcoin, QIWI, Paysafecard, Yandex, Moneta.ru, CS:GO skins. | 20€ | 10€ | Visit Now |
| | Credit & Debit Card, Skrill, Paysafe, Neteller | 50€ | 25€ | Visit Now |
| | Credit & Debit Card, Neteller, Skrill, Bitcoin, Yandex, Moneta.ru | 50€ | 50€ | Visit Now |
| | Credit & Debit Card, Skrill, EntroPay, Neteller | 50€ | 50€ | Visit Now |
Most of the bonuses you will encounter have some sort of condition: for example, to claim your free bet, you'll need to place a bet on an odd of 1.5 or over. This is perfectly normal and is something you should expect in the majority of esports betting sites.
Advanced LoL Betting Resources
Great job making it this far. Let us now remind you of something we consider extremely important. We do not promote wasting money, so we researched and prepared these advanced betting tutorials to help you, by teaching you how to take a calculated risk:
Now, these won't make you rich by themselves, but they will definitely help you have more fun by playing smarter.