Disclaimer: the strategies used in this guide are for informational purposes only. We do not promise rainbows and unicorns. 
If you're like most of us then you have searched for CSGO betting predictions on more than one occasion.
What you found was a bunch of tipsters and promises, but not a lot of tangible information that you can trust.
Trust me, this happens all the time.
CSGO is one of the most competitive games in eSports. Right now, there are more than 2,000 tournaments in a year, with a total of 4,500 professional players.
And that can be overwhelming.
Hence, many of us have, at one point, decided to take a shortcut and follow someone else's tips instead of spending time analyzing the matches ourselves.
Don't get me wrong, there are good tipsters out there. But in my own experience, there are also a lot of scammers.
But what if you could do it yourself?
That is the same question I asked myself, without any intentions of becoming an online eSports tipster.
Couple of months later, I found out that it would be the best to apply a methodical approach that wouldn't require me to spend all day looking at news and Twitter.  I think we can all agree that that time would be better spent on playing CSGO.
So I turned towards statistics and, more accurately, I started calculating each team's performance.
After I while I realized that I was onto something so I dug a bit deeper and broke through the clouds.
What was there were 3 steps that would instantly shift my way of thinking. And that's what I am going to share with you today.
Here is the exact process I use to predict CSGO match winners on a regular basis: 
Discover and plot each team's performance line

Calculate their form ratio

Write down their win/loss stats from the last 5 matches
Excited to learn something new today? Let's get started.
#1) Use the Performance Line to See Who is On The Role
Here's an idea I actually got from earlier versions of PES.
Back in 2010's, PES had this thing called "Player Form". It was essentially an arrow pointing downward, flat or upward, depending on their pre-calculated player form.
I wanted to use the same principle to graphically mark which CSGO teams are hot at the moment.
So I basically used GosuGamers's amazing CSGO rankings trend line to add the same thing into my betting prediction table.
Here's how to find the performance line:
Find your team using the table on the left
Take a look at their match graph
See if the line is heading up, down or it's just flat
And just to be sure, here's how I do it:
Let's take a random match up: Immortals vs Astralis.
Immortals' graph looks like this: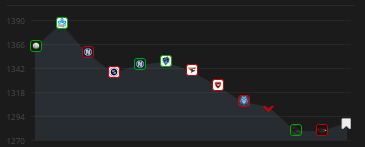 Astralis' graph looks like this: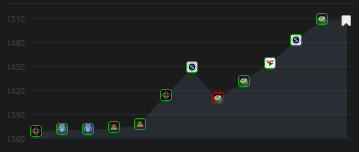 By looking at this we can clearly identify the performance lines for each:
Immortals ↓  vs  ↑ Astralis
Hence, we can take advantage of poorly calculated odds or just use this to bet on special markets with much more confidence. Also, try to incorporate dutch or hedge betting whenever you can to further minimize risks.
BONUS: Performance line is one of the most reliable indicators for betting on tournament winners, before the tournament starts — and while the odds are super high. 
#2) Calculate the Win/Loss Ratio for the last 12 matches
CSGO is largely a game of current form, as you might already know if you're an active player.
You probably noticed that there are periods when you're just invincible on the map.
Regardless to whatever people may think, pro's are just like that as well.
That's why I always calculate the ratio of total wins and losses before trying to predict an outcome of a match.
To calculate this:
Use the GosuGamers team page to see their last 12 matches
Divide the number of wins with the number of losses
The closer the ratio is to 0, the worse the team's recent performance
We will do this quickly for Immortals and Astralis just to illustrate an example: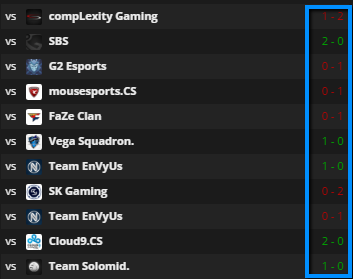 Immortals have 5 wins and 6 losses. After dividing 5/6, we get a form ratio of 0.83.
Astralis has 11 wins and 1 loss. Their form ratio is 11.
Couple that with the fact that their performance line is green, and a whole new world opens up for you.
So, let's recap…So far we have this on our CSGO prediction table:
| | | | |
| --- | --- | --- | --- |
| Team | Win/Loss Ratio | Performance Line | Last 5 |
| Astralis | 11.0 | ↑ | |
| Immortals | 0.83 | ↓ | |
Let's add the last one.
#3) Check Out the Team's Form in the Last 5 Matches
You might be wondering why the hell do you need to add the last 5 matches when we've already done two similar metrics.
The answer:
It can't hurt.
Last 5 matches are actually extensively used as a metric in sports betting. And it's not a coincidence.
Consider this as a cherry on top: just another dimension you use to asses a potential winner. Don't overthink it.
Add the team's last 5 matches into the table, just like this:
Team
Win/Loss Ratio
Performance Line
Last 5

Astralis

11.0

↑

W

–

W

–

W

–

W

–

W

Immortals

0.83

↓

 

L

–

W

–

L

–

L

–

L
As you can see, this is pretty much every information you could possibly need to predict an outcome of a CSGO match.
Again, Why Do We Need 3 Metrics?
We need 3 metrics because things are not always going to be obvious as in our today's example.
Take a look at this example and see if you can come up with a match winner:
Team
Win/Loss Ratio
Performance Line
Last 5

Astralis

1.31

↑

W

–

W

–

L

–

L

–

L

Immortals

1.33

↓

 

L

–

W

–

L

–

L

–

L
Here, we have two teams with a similar w/l ratio and a last 5 that's pretty close.
In this instance, I would rely on the Performance Line as a potential match winner indicator.
However, this kind of match up is always going to be a close call.
To wrap it up…
Once you do all of these, you can put them in a table, just like I did here (or in this ECS blog post), or write it down in a Spreadsheet.
I would advise having a Spreadsheet in any case, as it will enable you to rinse and repeat every strategy that you try out.
Comments
comments
https://www.gamopo.com/wp-content/uploads/2017/01/csgo-betting-predictions.jpg
321
845
Alpha Trooper
http://www.gamopo.com/wp-content/uploads/2016/09/GamopoHeaderLogo78.png
Alpha Trooper
2017-01-21 15:47:35
2018-03-23 12:56:43
How to Easily Predict CSGO Matches and Tournaments in 3 Steps