There is no doubt that esports is the next sports.
As a matter of fact, watching esports will become a $3,5 billion dollar business in just 4 years.
Currently, the industry is in its growth stage, with annual revenues breaking the $1,5 billion dollar mark.
Just in 2016, there have been over 10,000 professional tournaments with tens of millions of dollars in prize money. We even broke a few world records – 46 million people tuned in to watch IEM Katowice in February 2017.
Feeling intrigued yet?
So do the celebrities.
So far, there have been numerous investments from several A-list superstars: Shaquille O'Neal, Magic Johnson, Ashton Kutcher and Mark Cuban are just some of the well known esports investors.
But my question is this:
How are their investments playing out?
As a lifelong gamer I always wanted to be a part of the industry, no doubt. But the people above are not investing primarily for the love of gaming. At the end of the day, they are millionaires who are aiming for that jawbreaking ROI.
So, here's what we'll do:
We're gonna line up celebrities who invested in esports and then we're gonna try to calculate how much money their target ventures raked in so far.
And we're gonna do this through insane amounts of Googling and then double checking everything with our dear friends at esportsearnings.com, Liquipedia, esportswiki and others.
Before we move on, just have in mind that we do not have information on the sponsorship amounts, only the official tournament prize wins. That is why you will see a plus sign next to total numbers.
Good to go?
OK, let's jump right in.
Shaq and NRG made $750K+ in one year
Back in March 2016, Shaq and his two investment buddies, Alex Rodriguez and Jimmy Rollins, invested in an esports team, called NRG. NRG was founded by Sacramento Kings' co-owner Andy Miller, so you kind of get the whole picture of sports stars investing in esports.
At the time, NRG was not among the top teams and a year later — they are still not among the top teams in esports when it comes to their earning power.
Yes, they have added new rosters for SMITE and Vainglory but in the end, their biggest letdown was that they had to close shop for their League of Legends team.
Additionally, they are also short of producing top 5 teams in two other popular esports: CSGO and Dota 2.
Here is the breakdown of NRG's total prize money since the celebrity investments started pouring in: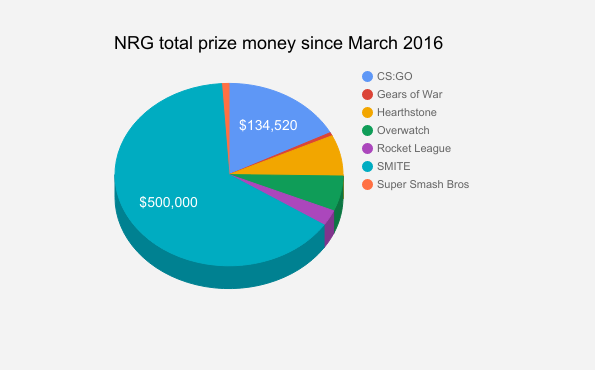 Since Shaq, A-Rod and J-Roll invested, NRG's biggest revenue came from Smite, CS:GO and Overwatch tournaments:
Their CSGO team earned $134,520 and their Overwatch squad banked $48,225. Which is not bad actually.
But their biggest income stream actually came this year:
NRG's SMITE team won the SMITE World Championships 2017 and banked an amazing $500,000.
I'm sure Shaq got a smirk out of it.
Of course, celebrities (especially Shaq) brought the hype, which brought several sponsors into the mix — their most recent sponsor, the city of Washington, actually became the first city to sponsor an esports team (what a news bait).
That being said, NRG is not yet a huge global success but they are on a good path. They are earning $14,500 per tournament on average, with their total team prize money being $784,000 — largely thanks to the success of their SMITE roster.
However, with the massive support of celebrities and mainstream media, NRG can continue to grow, especially if they somehow manage to create a top 5 CSGO team.
As things are right now, they have a long way to go.
The Sixers and Team Dignitas made $600K+ in 6 months
In September 2016, the Sixers acquired both Team Dignitas and Team Apex and then merged them under the Team Dignitas Banner.
Did this pay off?
Well, let's look at how much Team Dignitas earned since the Sixers acquired them: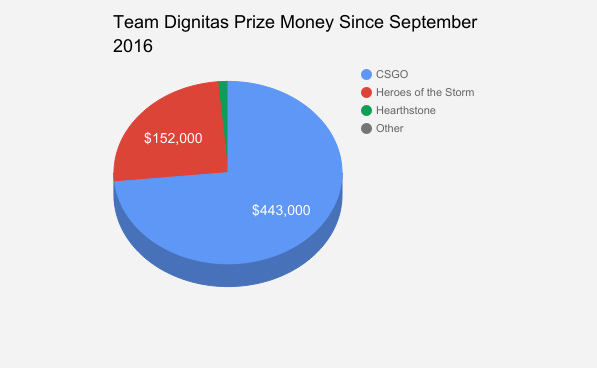 So in six months, the Sixers and Dignitas banked around $600,000. And that's actually pretty good for a completely new team.
Right now, Dignitas is primarily concerned with their CSGO roster. What used to be a Danish lineup up until the investments, is now a North American team with a completely new roster. The reason for this is, of course, the Sixers.
They bought a few more players from FaZe and are now focused on becoming one of the top contenders in professional CSGO and definitely one of the top NA teams.
However, they are still working on getting their new team up and running. Truth be told, the success of their acquisition will largely depend on the results of their CSGO team, as it is their main ticket to staying in the game.
Magic Johnson and Team Liquid made $760K + since September 2016
Magic Johnson and, believe it or not, Tony Robbins are a part of an investment company named Axiomatic.
Axiomatic, besides owning Wizards, Warriors and Dodgers, bought the majority stake in Team Liquid in September 2016. Obviously, since this is a big investment group, they are playing the future success card — they are counting on esports becoming one of the top grossing industries in the world in the next 5 years.
But has their stake in Team Liquid payed out yet?
Since September 2016, Team Liquid won a bit more than $760,000 on various esports. Here's the breakdown: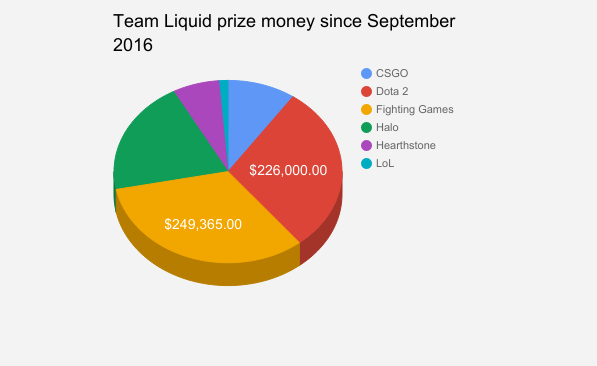 As you can see, the majority of their prize money came from Dota 2 and fighting games (most notably Street Fighter).
Magic Johnson and his investment buddies have made a good investment choice in my opinion — Team Liquid is a large organization and they have amazing audience reach (liquipedia is just one of them).
Ashton Kutcher and Mark Cuban may be struggling with Unikrn
Unikrn is a platform for real money and virtual esports betting that has raised over $10 million in investment capital since 2014. Some of the A-list investors include Mark Cuban and Ashton Kutcher.
The platform is primarily aimed for virtual betting enthusiasts (with their currency called Unikoins), with real money esports betting being available only in UK and Australia.
Unikrn has managed to achieve great branding since it god founded (largely thanks to celebrity investors) but has still failed to produce a ground breaking betting experience. I mean — if I'm betting, it better be for real money.
According to their company profile on Owler, Unikrn is reportedly making less than $1m/year in revenue, which is nearly not enough for it to live up to the expectations.
However, we simply do not know all the different ways in which Unikrn monetizes their traffic — they might be utilizing affiliate marketing to push their users to real money betting sites.
Whatever it is, I genuinely hope that Unikrn will manage to stay in the esports game as it is the first esports betting startup ever.
Steve Aoki and Team Rogue earned $140K+ in 6 months
Steve Aoki followed the esports investment hype from 2016 and invested in his very own esports team — Team Rogue.
Team Rogue has one of the best Overwatch teams in Europe and an average CSGO crew that is yet to make any serious results.
Since the acquisition in October 2016, Steve Aoki and Team Rogue won $141,602 in prize money. Here is a graphic overview: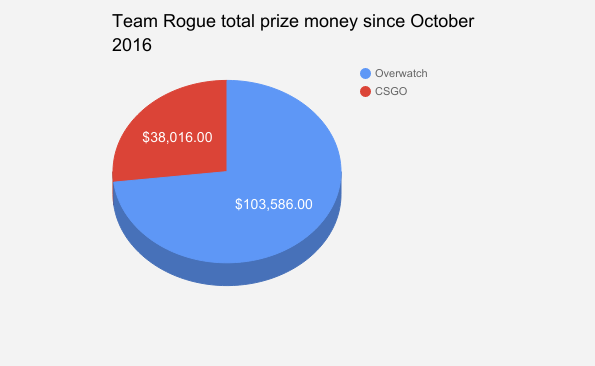 In my opinion, Team Rogue is a far from successful esports franchise — in order to accomplish that, they would need to create top class CSGO and/or Dota 2 teams, which can be quite costly.
They are doing well in Overwatch, which is is a good place to be, especially with Blizzard launching Overwatch League. Right now, though, Overwatch is not where the most of the money lies.
At this point, Steve Aoki is not making much on his new team, but the guy is an Overwatch fan so he might not be looking at this from investment perspective after all.
Rick Fox and Team Echo Fox made just $261K since December 2015
Rick Fox is one of the earliest celebrity esports investors.
The NBA star purchased Gravity Gaming in December 2015 for $1 million and went on to rebrand the team as Echo Fox. The hopes were high as the franchise started rolling out — unfortunately, they still haven't found their mojo.
In total, since its conception, Team Echo Fox won just $261,970. In 16 months, Echo Fox has had the most success in CSGO but failed to make any impact in one of the premier tournaments.
Let's take a look at the graphical breakdown: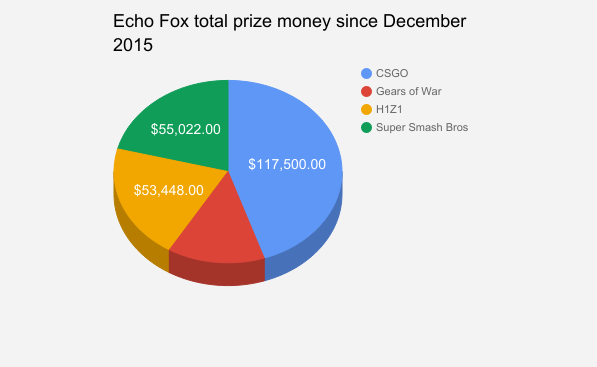 To be honest, things are not looking good for Rick Fox's team. He has probably still not paid out his $1m investment, and by the looks of their current roster, he will not be able to do it soon.
To wrap it up…
Esports are not easy money. And this is what many celebrity investors found out very quickly.
Yes, some of the investment groups did well: especially Magic Johnson and Axiomatic. But the brutal truth is that you need a top class team in multiple esports to make more than $1 million a year in prize money.
And that top class team takes two things: more money and connections.
Sources used in this article:
http://www.esportsearnings.com
http://lol.esportswikis.com/wiki/NRG_Esports
http://lol.esportswikis.com/wiki/Team_Dignitas
http://lol.esportswikis.com/wiki/Team_Dignitas_EU
http://smite.esportswikis.com/wiki/Team_Dignitas
http://lol.esportswikis.com/wiki/Team_Liquid
http://wiki.teamliquid.net/dota2/Team_Liquid
http://wiki.teamliquid.net/hearthstone/Team_Liquid
http://wiki.teamliquid.net/heroes/Team_Liquid
http://wiki.teamliquid.net/starcraft2/Team_Liquid
https://www.owler.com/iaApp/1858984/unikrn-company-profile
http://wiki.teamliquid.net/counterstrike/Rogue
http://wiki.teamliquid.net/overwatch/Rogue
http://lol.esportswikis.com/wiki/Echo_Fox
http://wiki.teamliquid.net/counterstrike/Echo_Fox
http://wiki.teamliquid.net/smash/Echofox
Comments
comments
https://www.gamopo.com/wp-content/uploads/2017/04/esports-celebrity-investors.jpg
321
845
Alpha Trooper
http://www.gamopo.com/wp-content/uploads/2016/09/GamopoHeaderLogo78.png
Alpha Trooper
2017-04-12 18:35:05
2017-04-30 12:22:52
Are Esports Celebrity Investments Paying Out?