XSET faced FaZe Clan this weekend at the lower bracket finals of NA VCT Challengers 2. The winner gets the final NA spot at the Copenhagen Masters 2022. To the demise of the clan, that spot was clinched by XSET. How did the matches turn out and how did Faze miss out Masters Copenhagen? Keep reading to find out more!
Well, how crazy can a match go? Two teams fight, they go guns blazing against each other. Someone wins map, the other wins the next one and on and on, right? But not this match. Something super out of the ordinary happened in Map 4 of this series.
What happened in Map 4?
After losing Map 3 to XSET and losing the first round to them on Map 4, more bad news awaited. At the start of the 2nd round, four of Faze's players got disconnected. Poised, supamen, Flyuh and babybay just stood still in front of B Main. A technical pause soon ensued as the players got disconnected. While the official stream initially stated that it was a small gear issue, that wasn't the case.
The stream went back to the casters, SideShow Gaming and BrenCasts where the pair let the viewers know that there has been a power outage. Plenty of pauses and advertising breaks went back and forth till the match returned after almost two whole hours. In the mean time, the team had relocated to a different facility. By that time, it had already been decided that the 2nd round will not be replayed as damage had already been dealt before the players disconnected. Questions then arose with fans asking, "Where's Faze playing from?".  A tweet from Poised soon cleared the air:
power at the internet cafe still out 😐

— FaZe POISED (@POISEDFPS) June 25, 2022
The tweet has been deleted by Poised hours after it was posted.
How did fans react?
Unsurprisingly, there were mixed reactions on the incident all over Twitter. While some fans were willing to do anything to help the org, others were quick to criticize the clan. Some couldn't digest the fact that players of a team like Faze Clan are having to play from an internet cafe. Faze Clan are yet to make an official statement regarding this entire situation as of yet.
Map Results
Map 1:  11-13 win for Faze at Split
Map 2: 13-10 win for XSET at Breeze
Map 3: 14-16 overtime win for XSET at Icebox
Map 4: 13-4 win for XSET at Ascent
As you can pretty much see from the score lines, the first three maps went neck-to-neck. None of the teams held back from going all in and it certainly showed.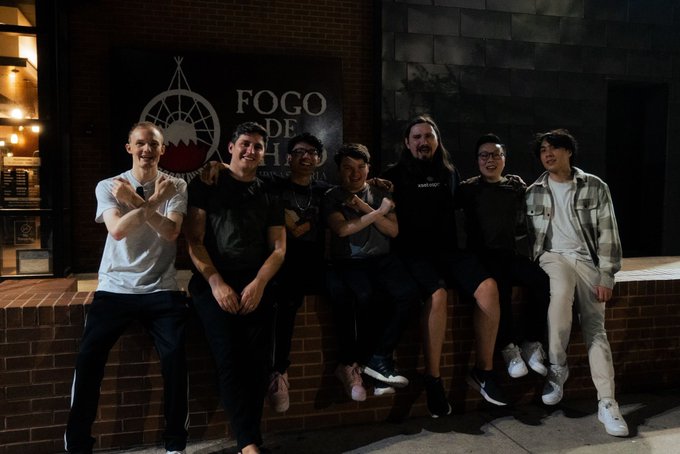 XSET dephh must be on top of the world. XSET's IGL had this to say before the game:
I know everyone is thinking that we're a top-4 finish only (team) , but I think this is the stage that we break through and say, 'F**K Y'ALL.
Masters Copenhagen
True to it's name, the VCT 2022: Stage 2 is taking place at Copenhagen. The competition begins on 10th July and the finals will take place on the 24th July. Masters Copenhagen will be the first international Masters event to feature a live audience and tickets are up for grabs!
Participating Teams
Fnatic
FunPlus Phoenix
Guild Esports
 DRX
OpTic Gaming
XSET
Paper Rex
XERXIA
Northeption
Leviatan
Loud
There is still one spot left which will soon be decided. Only one between Ninjas in Pyjamas and KRU will be taking that final ticket. That match will take place this Thursday. If you're interested in betting for that event, do head out to our recommended Valorant betting sites.
All in all, you have to admit that this was a worthy matchup for the lower bracket finals. But for now, fans are surely waiting to see what goes down at Copenhagen next month. See you then!
https://www.gamopo.com/wp-content/uploads/2022/06/FaZe-Clan.jpg
1080
1920
ryan nowe
https://www.gamopo.com/wp-content/uploads/2018/10/43049735_2190022561248158_4641806417915805696_n-277x300-80x80.png
ryan nowe
2022-06-26 19:55:53
2022-06-27 09:38:04
Faze Clan Fails To Qualify for Masters Copenhagen