Esports Championship Series (ECS) Season 2 Finals are taking place between December 9-11 in the Anaheim Arena, US. The tournament features 8 teams from North America and Europe and a pretty decent $750,000 prize pool.
In this post, we are going to primarily explore the form of all 8 teams ahead of the ECS Season 2 Finals.
This means that you'll get:
Statistical breakdown of the performance of each team, post ELeague

My top 2 picks for winning ECS

Breakdown of the tournament winner odds (for those who are interested)
But, first things first — the table.
I love tables.
If you do them right, they provide a perfectly usable overview of each team's performance, prior to each competition.
You can then use that information to do two things:
Bet on the tournament winner, before it starts.

Take advantage of the high odds for the group stage matches
This is the same breakdown I always use to arm myself with information before entering a tournament set, which allows me to minimize the losses and take advantage of some potentially big odds early on.
Before we go on to the table, you'll need to know the most important metrics you will encounter in my stats:
Form Ratio is a metric I use to calculate the team's overall form in the past 2 months. The higher the number the better the team is performing at the moment.
Last 5 is the breakdown of the team's last 5 matches. If a team has 5 wins in a row but they're underdogs on the betting websites, then you just might score big by betting on them in the group stage.
Win, Draw, Loss is the total match score in the past 2 months.
Performance Line is another performance indicator of mine that takes into account the team's 15 last matches.
The bottom line:
Up — team's performance is increasing

Flat — team's performance is balanced

Down — team's performance is decreasing
Ready to go? Let's dive right in.
Note: if you're on your phone, flip it sideways
Form Ratio
W/D/L
Last 5
PL
Astralis

2.62

21/0/8

L

–

W

–

W

–

W

–

W

↑

Team EnvyUS

1.12

9/0/8

L

–

W

–

W

–W

–

L

→

FaZe Clan

1.50

15/0/10

L

–

W

–

L

–

W

–

L

→

Team Dignitas

1.12

9/0/8

L

–

L

–

L

–

L

–

W

↓

SK Gaming

2.50

15/0/6

L

–

W

–

L

–

W

–

W

↑

Cloud9

1.60

16/0/10

W

–

L

–

W

–

L

–

W

↓

Immortals

5.00

15/0/3

W

–

W

–

W

–

W

–

L

↑

Optic Gaming

1.77

16/0/9

W

–

W

–

W

–

L

–

L

↑

BONUS: My top two picks for Winning This Year's ECS Finals
I don't normally do predictions, as I like to keep those things to myself and not disappoint you guys. This time, however, I felt like I just wanted to share my thoughts, so here it goes:
1) Astralis
Even though they lost to Optic in the ELEAGUE finals, just a couple of days ago, Astralis showed something great.
They beat both NiP and SK, and even better – they broke SK's 17-0 win streak on Train.
They also broke through their notoriously difficult semi's and finally entered the grand final of a major event.
Astralis are not everyone's favorites for winning Esports Championship Series this year, however, the small sixth sense leprechaun inside me thinks that they will be hungry for it. And an even smaller leprechaun thinks they can win it.
2) SK Gaming
SK has had an amazing year. Out of 4 premier tournaments they played in 2016, they won one, played in the two finals and came 3rd-4th in ELEAGUE.
Coldzera has been voted for the best eSports player of the year and they had 15 wins and just 6 losses in November and December (so far).
Their form is great and, without any further explanation, you would not be mistaken if you'd bet on them winning the ECS.
Tournament Winner Odds (Only for Betting Enthusiasts)
I am writing this on December 5th, so here are the current odds.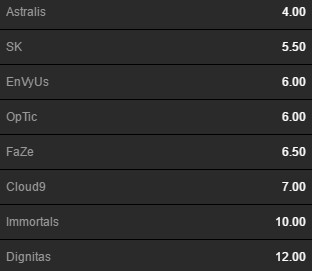 And I know what you're thinking…
5.50 for SK to win the tournament?! Count me in.
And yes, I'm thinking the same thing.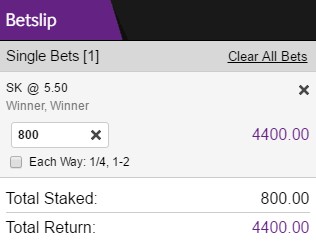 However, there's a smarter way to do this.
Picking Tournament Winners With 80% Less Risk
What I have in mind right now is that Astralis is also a potential winner.  
So the safest thing to do here would be to utilize one advanced betting strategy to cover both SK and Astralis winning the tournament.
By doing so, we are ensuring a profit in case one of these two wins, but we're deducting a bit off of profits, in order to reduce the overall risk.
Here's how I do this:
My budget for this bet is 100€. (don't worry, it can be as low as 10€).

I'm betting 42€ on SK to win the tournament (with the odd of 5.50)

My second bet is 58€ on Astralis to win the tournament (with the odd of 4.00)

If either SK or Astralis win, I have a guaranteed 130€ profit.
This is the same principle I used to earn 1,400€ on IEM Oakland and the main reason why Gamopo is one of the fastest growing eSports communities.

By now you're probably wondering how is this possible?
The strategy I'm using is called Dutch Betting. We break this down in detail in our advanced dutch betting strategy guide, which is a part of Gamopo Academy — a collection of lessons, tips and strategies I picked up along the way. 
You're Up!
Right now, I'd like to ask you one thing:
Who do you think will win ECS Season 2 Finals?
Just leave a quick comment below.
Comments
comments
https://www.gamopo.com/wp-content/uploads/2016/12/ECS-Season2-Finals.jpg
321
845
Alpha Trooper
http://www.gamopo.com/wp-content/uploads/2016/09/GamopoHeaderLogo78.png
Alpha Trooper
2016-12-05 17:14:35
2017-01-21 16:36:55
ESports Championship Series Season 2 Finals: The Best and The Rest [FULL PREVIEW]